Former about exit
Without EXIT I would never have been able to forget the hate which was propagated by the right wing extremist movement.
The photo shows graffiti from my past and somehow it never really disappeared. It faded and lost meaning, but it doesn't go away. That's how the past works. It doesn't change. But we can change the today and the future.

_Thomas (Educator)
Without Exit I would never have reflected on my past. I lived in denial not able to recognize my moral dept owed, pushed by shame and ignorance. I was in permanent defense mode.  Only by overcoming my past I could find my personal liberty and peace and am now able to help others to leave extremist environments.


_Achim (Selbstself-employedändig / CEO C.H.A.N.G.E. Memphis)
EXIT was a life saver for me. Without their program I would never have been able to rehabilitate into society after I was released from prison.
It was a time with a massive lack of perspectives when the many talks with EXIT Deutschland helped me to give my life a direction and structure again. While many only see a Nazi and culprit, people don't realize that there may be also a whole family with children who are involved in the whole "exiting" process as week.
EXIT created a plan for me and my children, which made it possible to not only leave old structures behind, but also breaking with my old ideology. It was a hard way with ups and downs but EXIT never let us down. No other organization was able offer such extensive help, which I needed as a "former". I wasn't just their client but was actively integrated in their work. 

It was a time when I had lost my whole social environment, and it seemed almost Impossible to handle simple daily tasks, when EXIT filled this vacuum and loneliness. They took me seriously, and their supervision helped me to find alternatives for me and my children. Through them I recovered my optimism and vital energy to become a valuable part of society again.
 
Looking back, I would say I probably would have given up hopes for me and my children, if it wouldn't have been for EXIT. EXIT Deutschland is and will be my anchor.
Franka (self-employed)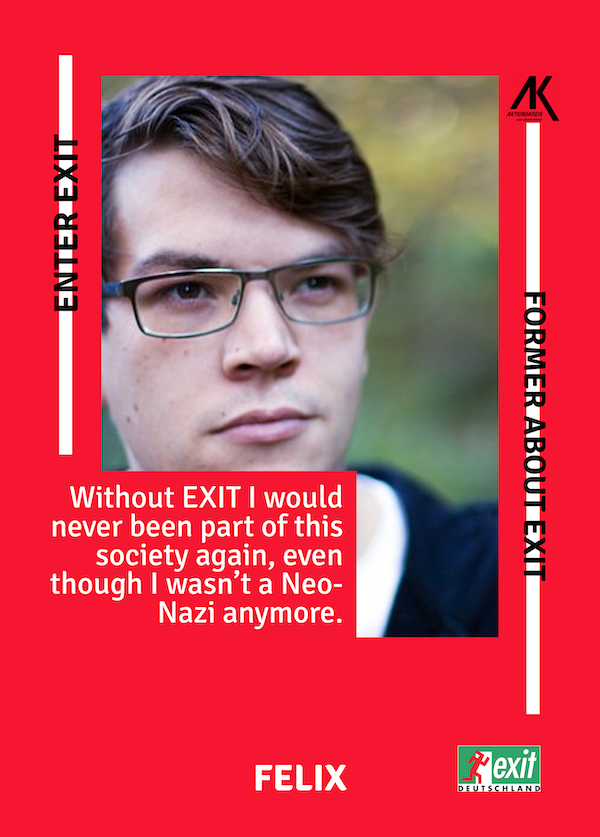 Without EXIT I would never been part of this society again, even though I wasn't a Neo-Nazi anymore.
When I contacted EXIT, I already wasn't active in the right wing extremist movement anymore and I already critically reflected on the national socialist ideology I once believed in. For the EXIT case worker there was no kore time to waste, as I already received massive threats. But even then, it needed some time for me to entirely account for my past. All these years when I dehumanized my enemies. When there was only friend or foe. EXIT gave me the time I needed. Just the fact that I was treated as an individual in the beginning, triggered many needed thoughts in me. Accepting the freedom and dignity of all human beings. To allow other opinions. Without EXIT I probably would never have known the diversity that life can bring after leaving the Neo-Nazi movement. EXIT possesses over an unparalleled resource of experience when it comes to work with "formers" and is not limited to the time needed when working a case. Especially for those formers who have been deeply involved in the movement it is essential, that the supporting initiative possesses the needed knowledge about the differences within the movement regarding violence and how they react to traitors.

_Felix (Founder Aussteigshilfe Bayern)