Grußwort zu #EXIT20 von Staszek Czerczak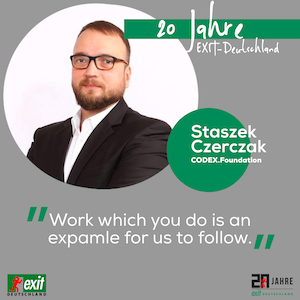 Dear friends from Exit-Deutschland twenty years of activity is an amazing anniversary. For these years you have accomplished many good things and managed to help many person to leave the path of crime and hate. Work which you do is an expamle for us to follow. We are very grateful that us – a young organization from Poland – can draw patterns from you on exit work. We consider a possiblity of collaboration with you as a privilege and we are very proud of it. We have managed to organize a great event and Pol'and"Rock Festival 2019 in Kostrzyn / Oder. 
This was great and needed happening, which we cherish deeply. Thank you for letting us to use your knowledge and  experience. You must know that you've helped us to establish a needful organizastion in Poland working in the same field as yours.
Therefore we wish you all the best and future succeses and next twenty or ever two hundred years to build a safe, democratic civil society.
Staszek Czerczak president of CODEX.Foundation