EXIT

-Deutschland & Jakob Ganslmeier proudly present:
Under the skin – Former neo-Nazis and their symbols
For more than two years photographer Jakob Ganslmeier accompanied the work of EXIT Germany as well as the formers in their drop-out process. The project is a combination of photographs and interviews designed to make the process of profound change visible. He photographed and documented the visible drop-out process, conducted interviews with formers and employees of EXIT Germany, attended tattoo removals or cover-ups. He witnessed successes as well as the everyday challenges in the drop-out process. A long process being made visible by the project "Under the skin – Former neo-Nazis and their symbols". Due to the large number of images, interviews as well as various approaches, perspectives and juxtapositions, the artistic work creates a unique insight and access to the topic of right-wing extremism and exit processes.
Portraits document the drop-out process of former neo-Nazis. The focus thereby is to show the removal of tattoos – oftentimes large-scale right-wing extremist symbols and signs. Ganslmeier, hence, follows the disappearance of the physical inscriptions, which for years constituted the expression of their own identity and political ideology.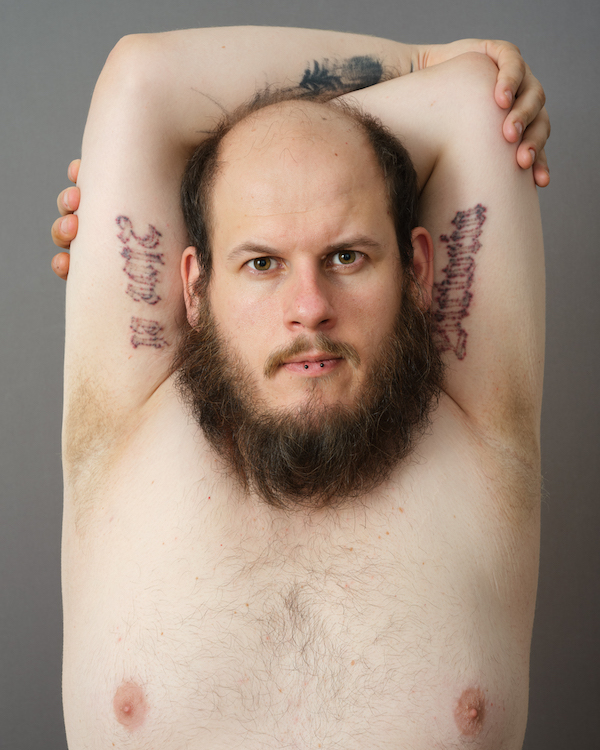 In the interviews, the drop-outs describe their former activities within the right-wing extremist scene as well as their way out. The experience of discontinuity inherent to an exit process as well as the problems associated with the identity (re)construction are highly complex endeavors and depend on the individual, its function, time spent within the scene as well as the former reference group. The practical experience shows that reasons for entering and leaving are highly individual and multicausal. The photos are complemented by interviews, which help to answer questions that cannot be answered by pictures alone:
Can a symbol be replaced by another? Will the new tattoo or the blank spot become part of one's identity? Is removing or covering the symbols the beginning or end of the exit process? In how far does the removal reflect the inner process of distancing and abandoning previous beliefs? Have the formers found alternative ways of support, belonging and security?
We would like to thank all the formers for their openness and support as well as all partners and sponsors. The exhibition was realized with donations from the band 'Die Ärzte' and 'Telekom'.